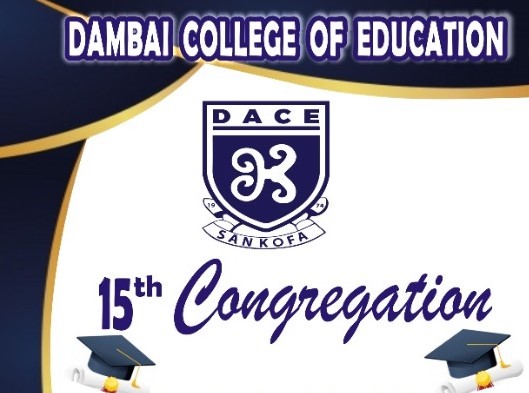 15TH GRADUATION
INVITATION AS GRADUANDS
15TH GRADUATION CEREMONY OF DAMBAI COLLEGE OF EDUCATION
On behalf of the Governing Council, Staff, Students and Alumni of Dambai College of Education, I write to invite you all Students of the 2020 final year batch of the Diploma in Basie Education (DBE) programme of the College to the 15th Graduation Ceremony being organised purposely for University of Cape Coast to confer on you diplomas and graduate you.
Kindly note the schedule of the programme as follows:
DATE:
Saturday, 22nd May, 2021
TIME: 9:00am
VENUE:
Forecourt of the College Administration Block
Theme:
"Blended Teaching and Leaning" in Colleges of Education: Implications, Challenges and Prospects.
Rehearsals by Graduands with College Officiating Team: Date: 21st May, 2021 at 4:00pm
Registration and Collection of Gowns by Graduands: Date: 21st May, 2021 from Clothing Stores from 9:00am – 5:00pm
Submission of Gowns at Stores after Graduation Ceremony: Date: 22nd May, 2021 by 2:30pm
We count on your usual cooperation. Thank you.
Dr. (Mrs.) Benedicta Awusi Atiku
PRINCIPAL